Introducing our Afterschool Soccer Programs:
Discover the essence of our Afterschool Soccer Programs, designed
to cater to aspiring young players aged 5-12.

These programs emphasizes on skill development, utilizing engaging drills and games to help acquire the fundamentals of soccer.

Beyond the technical skills of the game, our Afterschool Soccer Program helps to foster confidence, create friendships among players and give a fun enjoyable environment.

Tailored for participants of all skill levels, our Afterschool Soccer Programs provide a structured yet welcoming space for children to refine their abilities.
Collapsible content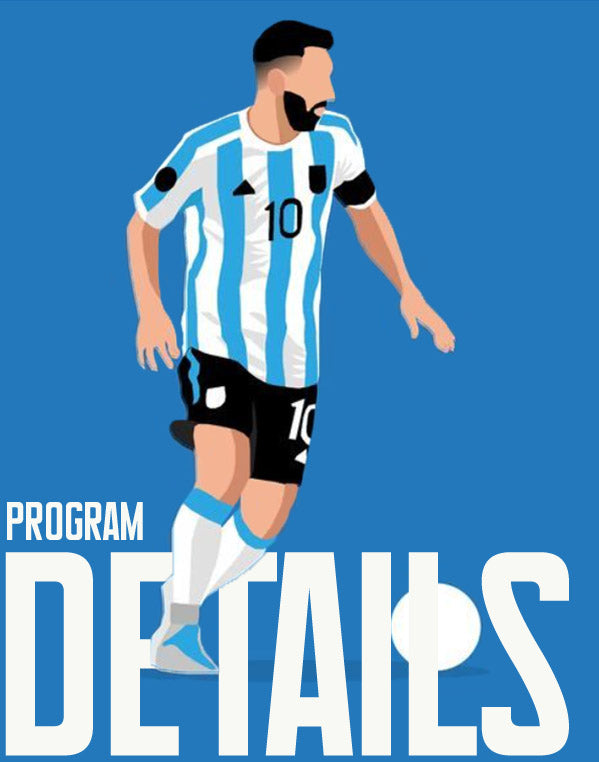 5 - 7 Year old program

Monday / Tuesday Program Start Date:
Monday 9th October
Tuesday 10th October

Monday / Tuesday Program Finish Date:
Monday 27th November (8 Weeks)
Monday 11th December (10 weeks)

Tuesday 28th November (8 Weeks)
Tuesday 12th December (10 weeks)

8 - 12 Year old program

Wednesday Program Start Date Start Date:
Wednesday 11th October



Wednesday Program Finish Date:
Wednesday 29th November (8 Weeks)
Wednesday 13th December (10 weeks)




8 - 12 Year old Girls Program

Calling all young soccer enthusiasts! ⚽ Girls aged 7-12, we've got the perfect program just for you. Join the fun, make friends, and kick off your soccer journey with us!

Tuesday Program Start Date Start Date: Tuesday 10th October

Tuesday Program Finish Date: Tuesday 28th November (8 Weeks)
Wednesday 12th December (10 weeks)
Lesson Duration

45-50 minutes per session

Mon, Tue & Wed programs start at 4:15pm
Cost

$216 - 8 week program
$270 - 10 week program
FAQ

Do Parents have to stay?- No, you can drop your child off and pick them up when finished. We ask you walk them inside at the start and return inside when picking them up - We have a fully equipped Commercial Gym in the back, sign up and train while your kids train! WIN - WIN

What needs to be brought?- A drink bottle, and runners.

Behaviour in our sessions. We understand children lose focus, but if your child has behaviour issues we ask that you contact us prior to booking.
In the sessions, we ask kids to maintain attentive behaviour. We recognize that children might occasionally become distracted, which is completely normal. However, in cases where a child exhibits misconduct, disrupts the session, causes damage, or poses a risk to others, we will promptly contact the parent or guardian to arrange for the child to be picked up.

What happens if my child misses a class?- As they may be only 1 allocated class which your child can attend due to their age, a class that is missed will be forfeited. If their is a secondly class for their age group your child may attend that class once confirmed a coaching staff.
*Note as classes are prepaid, once paid no refund is applicable
Advanced Player Program

Our Advanced Soccer Program, caters to talented players who are already well-versed in the game and eager to further develop their abilities.

For more information about this program please read more in our Advanced Soccer Program Page
Select Program
Select which program your child falls under
Quantity =
How many kids are participating
Add to Cart
Enter Childs name in "Add to Cart Section"
Confirmation
A staff member will contact you to check details are correct
After School Soccer Program
Regular price
$145.00 USD
Regular price
Sale price
$145.00 USD
Unit price
per
Sale
Sold out
View full details
Experience Unmatched Soccer Training at our Soccer Clinics!
Soccer Clinics:

Unlock your true potential on the field with our Holiday Soccer Clinics. Led by experienced coaches, we offer comprehensive training programs that focus on skill development, tactical understanding, and game strategies. Whether you're a beginner or advanced player, our clinics cater to all skill levels, ensuring significant progress and a deeper love for the game.
Indoor Soccer Bayside:

Indoor Soccer Bayside:

Don't let weather conditions dampen your training. Our state-of-the-art Indoor Soccer facility in Bayside offers a premier training environment. With controlled temperatures and modern amenities, you can enjoy year-round soccer activities without interruptions. Our experienced coaches provide personalized attention, ensuring you make significant strides in your game, regardless of the weather outside.
Why Choose Us:

Why Choose Us:

Highly Qualified Coaches: Our dedicated coaches bring a wealth of experience and expertise, offering valuable insights and personalized guidance.
Tailored Training Programs: Our clinics are designed to meet the needs of players of all ages and skill levels, focusing on individual improvement and team dynamics.
State-of-the-Art Facilities: Experience top-notch facilities, equipped with the resources to maximize your learning and development.
Emphasis on Fun and Growth: We believe that soccer training should be enjoyable. Our clinics blend learning with exciting drills and engaging activities to create a positive and nurturing environment.
Convenient Location: Easy location and central to Bayside making it easy to participate to navigate to.